Club History
Founded in 1968, by just a few dedicated Morgan Horse enthusiasts (a few are still members today), the OMHC started with a single one day show that has grown into multiple events throughout the year. We are a friendly, FUN, family oriented group of Morgan owners that number over 250 members from all over the province.
The OMHC is an affiliated club of the CMHA (Canadian Morgan Horse Association) that covers all of Canada. We invite you to explore what we have to offer our members.
The latest update was made February 21, 2017.
email: Ontario Morgan Horse Club
Download a
Membership Application
Download the
By-Laws
---
Christi Nye presents an OMHC award to Brenda Casteels with David Kavangh.
Christi Nye presents OMHC awards to Ashley Reeson and Ashlyn Carley.
King-Lehr's Ego Master looking very proud!
Owned by Michelle Coffey.
Kids and Morgans go together naturally! Erica Coffey and her mare Baronial Blues n Jazz.
Whitemud Fancy Free owned by Virginia Smith.
OMHC News
The 2017 Banquet was a smashing succes! Thank you to Lisa Kavanagh and her crew for pulling off a splendid evening full of fun, laughter and great people.
More pictures are available here; Youth pics available here;
Many thanks to Karie Alderman for coming and taking these wonderful shots and to Brenda Casteels for making it all happen!
The Hall Of Fame will be updated shortly, stay tuned!
Lisa Kavanagh presents the National Overall Morgan High Point Award to Emily Gaynor and her Morgan HSH Smooth Operator!
Donna Nye receives a gift of appreciation from Alex!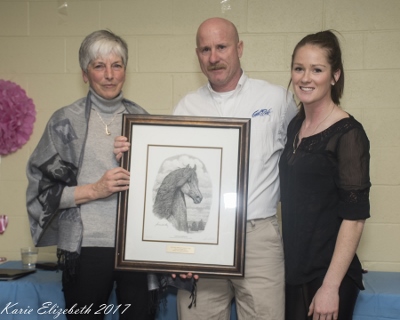 Christine Monteith presents the Hall Of Fame award for Greg Reeves to his brother Geoff and niece Madison Reeves.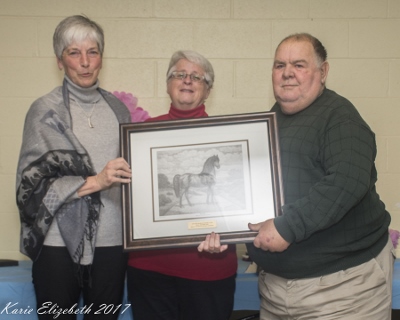 Christine Monteith presents the Hall Of Fame award to
Alice and Bruce Murray.
---
The Ontario Morgan Horse Club Futurity
The OMHC Futurity began in 1973, not long after the founding of the club in 1968. The first yearling crowned Champion was Silver Liebling who was bred by Roy & Bea Boyt and owned by Luc & Diane Caron.
The purpose of this Futurity is to encourage, promote and reward good breeding practices among Morgan owners. Breeders become conscious of the need to carefully select both stallions and broodmares for the most successful matings. Mare owners are encouraged to seek out the best stallions for their mares, not merely the closest one with financial rewards if their choices are good.
Futurities offer an additional opportunity to have your young horses shown before a qualified judge and an interested audience of possible buyers, thus stimulating the market for young stock.
We offer a three year old driving class and a four year old saddle class. All of the futurity classes are offered at the Ontario Morgan Horse Championship Classic. Click here for more information and forms
2016 Champion Yearling Futurity Baronial Fire Pistol
owned by Christi Nye and bred by Anita Jackson.
Please support your newsletter: send your news, photos and advertising to:
Virginia Smith,
2404 Secreto Dr., Oshawa, ON L1L 0H6 289-240-5039
---
Do you have a farm website (and you are a member of the OMHC?) Send us the URL and I will list it for free.
Photo Credits:
Karie Alderman, Howard Schatzberg, Terry Young, Ashley Reeson, Mystic Visions Photography, Gen Kendell-Hayes, River Bend Designs, Casey Kadwell, David/Lisa/Nancy/Brian Kavanagh, Stacy Jackson, Stephanie Hart, Stephanie Ross.
OMHC Photos Wanted!

Your web team continually updates the photos on this website. If you have a special photo, please email as a JPG to Brian Kavanagh. We want VARIETY!
Please do not reproduce the photos, if you like a photo, please contact me for permission to re-use.
Ashlyn Carley and her gelding Northline Stardust spend some quiet time together near beautiful Rice Like.