Club History
Founded in 1968, by just a few dedicated Morgan Horse enthusiasts, the OMHC started with a single one day show that has grown into multiple events throughout the year. We are a friendly, FUN, family oriented group of Morgan owners that number over 100 members from all over the province.
The OMHC is an affiliated club of the CMHA (Canadian Morgan Horse Association) that covers all of Canada. We invite you to explore what we have to offer our members.
The latest update was made July 16th, 2021.
email: Ontario Morgan Horse Club
---
Congratulations to Lisa Ross;
her slogan entry Versatility.Beauty.Intelligence.
was voted by the members as our OMHC slogan winner and will be used in future promotional efforts.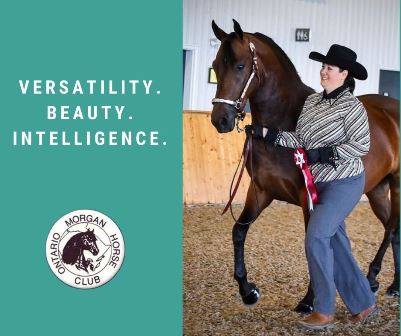 Stephanie Rutherford and Trickling Stream Entertan handling the pole bending with poise!
---
Photo Credits:
Scott & Melanie Thomas, Cheryl Payne, Karie Alderman, Ashley Reeson, Gen Kendell-Hayes, David/Lisa/Nancy/Brian Kavanagh, Shelley Higgins, MIchelle Coffey & Holly Buckley.
Please do not reproduce the photos, if you like a photo, please contact me for permission to re-use.
OMHC Photos Wanted!



Your web team continually updates the photos on this website. If you have a special photo, please email as a JPG to Brian Kavanagh. We want VARIETY and QUALITY!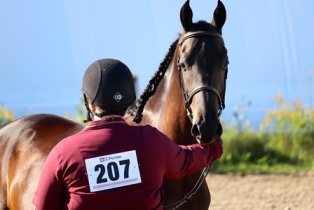 DGH Sirious Business standing up for his
In Hand class with Ashley Reeson.
OMHC News
The Ontario Morgan Championship Classic is set to go Sept 18-19th in Bethany, ON. Download the prize list and entry form here.
The Arabian Celebration show and Region 18 show is August 13-15 is also a go in Paris, ON.
The OMHC board is pleaed to be offering a clinic with Caylyn Walker, Trick Horse. Get all the details here. The date is August 7th in Warkworth, ON.
Check out the new items that have arrived for the Gift Boutique.
At the December general meeting, elections were held and we have a new President. Congratulations to Ashley Reeson for allowing her name to stand and taking on the role of President for the OMHC. We have the exact same board as prior but some people have/will be changing their positions.
The newly updated High Point rules have been added to the website. Please check out: High Point and youth high point
---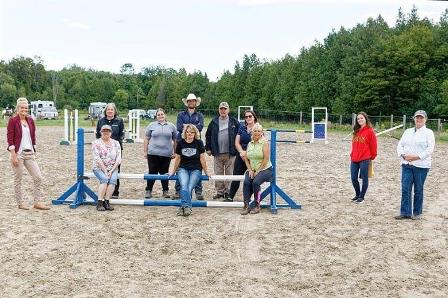 The hard working crew at the Not So Spring Show.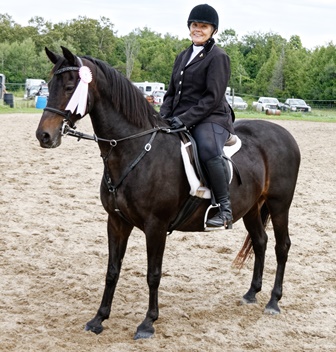 Darlene Hunter and her lovely mare Legend's Morning Glory, their first show together.
---
The Ontario Morgan Horse Club Futurity
The OMHC Futurity began in 1973, not long after the founding of the club in 1968. The first yearling crowned Champion was Silver Liebling who was bred by Roy & Bea Boyt and owned by Luc & Diane Caron.
A list of past winners can be found on the futurity page.
The purpose of this Futurity is to encourage, promote and reward good breeding practices among Morgan owners. Breeders become conscious of the need to carefully select both stallions and broodmares for the most successful matings. Mare owners are encouraged to seek out the best stallions for their mares, not merely the closest one with financial rewards if their choices are good.
Futurities offer an additional opportunity to have your young horses shown before a qualified judge and an interested audience of possible buyers, thus stimulating the market for young stock.
We offer a three year old driving class and a four year old saddle class. All of the futurity classes are offered at the Ontario Morgan Horse Championship Classic. Click here for more information and forms
2020 Champion Yearling Futurity (Virtual)
Wickow Way Kilteagen, owned by Lisa & Steve Ross.